2019-2020 Operation Budget
As Proposed by the Board of Deacons
For more information or if you have questions, please contact:
Introduction
On behalf of the Elders, Deacons, and Staff, this 2019-20 Budget Proposal reflects our intent to reflect the ministry priorities of CHBC by adopting a budget in which planned expenses equal anticipated income.
Budget Approval Process
The 2019-20 Budget Proposal is contained below (Table 4); it comes from the Deacons and is available to the members for review and comment.
There will be one Open Conversation to discuss and ask questions about this proposed budget. This will take place Tuesday, May 21, at 7 pm. Anyone with questions or comments is encouraged to attend.
The membership will vote to approve the budget at the annual meeting on Sunday afternoon, June 2, 2019, at 4pm.
Summary
The Elders and Deacons request that questions about the 2019-20 budget be raised prior to the annual meeting. Opportunities to do this include attending the Open Conversation or contacting the Treasurer, Business Office Director, or Church Administrator by phone or by email prior to May 26, 2019. (Contact information is listed above.) This enables the membership to center its discussion at the annual meeting on big-picture issues.
Motions for specific amendments to this proposal to be voted on at the annual meeting must be submitted in writing (or by email) to Kimberly Ulmer, Deacon Chair, by May 26, 2019 (contact information above). This will provide adequate opportunity to prepare information regarding the amendment(s) for presentation at the meeting. All proposed amendments submitted will be presented at the annual meeting. There will be no presentation of new amendments from the floor during the meeting.
Questions: The Treasurer, Business Office Director, and Church Administrator are very happy to sit down with anyone to work through the details behind these summary documents. We encourage and welcome the questioning and monitoring of financial matters by the members. Please do not distribute these documents to those outside CHBC without first contacting the Treasurer, Business Office Director, or Church Administrator.
Budget details for Missions and Ministries are available as a separate document by request for those who are interested in more information about the plans and priorities of these ministry areas.
2019-2020 Budget Overview
The total 2019-20 operating budget is proposed to be $3,345,000. This represents an increase of 6% ($188,000) over the 2018-19 budget.
As of May 5, 2019, giving is 10% higher than it was through the same period in the 2017-18 fiscal year.
After several years of our average Sunday morning attendance being fairly flat, in the past two years we have seen significant growth in attendance. Interestingly, the attendance at the second service is now greater than that at the first service nearly every week, in contrast to prior years.
We keep an operating balance on hand to cover cash flow and provide for unexpected costs or opportunities. As of 11/30/2018, this balance was $395,400; as of 11/30/2017 it was $446,550. (We typically report for November because it is prior to our biggest month of contributions; this figure fluctuates throughout the year). The change is due to expenses of the building project that were paid for from the operating income (go further down the page for more details on the Building Fund).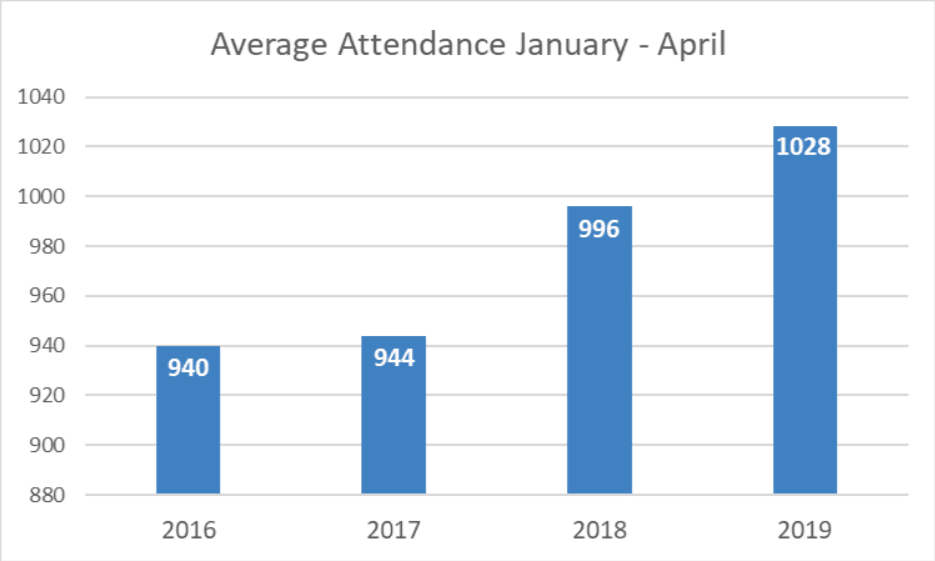 2019-2020 Budget Overview by Budget Area
Personnel
The personnel portion of this budget is 54.1% of the projected giving.
We continue to find in some surveys that we consult that our personnel budget is in line (in terms of dollars) with other churches of our average attendance, but our ministry and mission budget is not as large. This is due in part to our adding strategic staff positions in recent years, and also because of efficiency in ministry management by our staff. We expect that overall expenses for ministry and mission will grow in the coming years.
Most positions receive a 3% increase in pay in this proposed budget.
Although we will not know the cost for health insurance premiums for our qualified staff until later in June, this budget includes money to cover a premium increase up to about 11%. Any of this budgeted money not needed to cover these expenses will remain unallocated and be used to fund needs and opportunities in personnel as they arise.
The currently-vacant Worship Minister position is included in this budget. The costs for the search and other costs related to relocation, etc., will be covered from this salary line or from operating capital (this is typical of our practice for vacant positions).
Sabbaticals for Malcolm Pettigrew and Eric McKiddie are included in this portion of the budget.
Missions & Ministries
The total Missions and University Support budget represents 10% of our contribution budget. For details about anything in this section, please contact Rodrigo Dinsmore, Pastor for Gospel Mission (roddy@biblechurch.org).
Over 25 individuals/couples are supported as missionaries internationally and within the US by our missions budget.
New Missions programs, including Business as Mission (a topic of Roddy's sabbaticalthis summer) and a Perspectives on Mission course, as well as new missions partners, are part of this section of the budget.
University Support: Mark Hampton, College Minister, and Roddy Dinsmore assess strategic connections each year in developing this budget area, which covers our investment in sending campus missionaries and supporting campus ministries.
Ministry Program budgets were proposed by the ministry teams and leaders. Additional information may be obtained from the ministry leaders. Many small adjustments have been made in the budget amounts for various areas to reflect both strategic and practical matters.
Discipleship/Training/Community/Care: Last year, this budget area was a combination of several smaller budgets. This year, with new staff roles in these areas, we have broken it out into more specific budget lines. All adult ministry areas are encompassed in these lines, including adult classes, men's ministry, and training and equipping in various areas.
Special Needs/Disability/Night to Shine: This is a new budget line in this section. We have had a vibrant ministry in this area for several years which has been funded from the Special Needs Fund. This Fund has been emptied over the course of this past year, so continuing ministry expenses will be covered in the Operating Budget. (The compensation for our part-time Special Needs Director is included in the Personnel portion of the budget starting this year.)
Resources and Other: This section is where ministry costs that apply to more than one ministry are budgeted. For example, costs associated with our registration and payment software and the check-in hardware and their supplies fall under this area. Various smaller general ministry budget lines are included in this section, as well as staff and leadership retreats, some search costs, and a small amount of unallocated money dedicated to ministry opportunities.
Operations and Facilities
Operations and Facilities: These budget areas include increases related to the operating costs of the larger building we now have. Insurance, utilities, and cleaning, as well as other costs, have increased with the addition of the 31,000 square feet of space (we now have approximately 82,000 square feet of building space). Since we opened this space half-way through this fiscal year (in late December, 2018), we do not know for sure how operating costs (such as utilities and cleaning) will be affected. Therefore, the Facilities portion of this budget will likely be adjusted next year based on having a full year of actual costs available for our consideration.
Technology covers computers and network systems used by individual staff members as well as throughout the building. Computers for individual staff members are replaced on a schedule designed to maximize usefulness and provide second-life hardware for less critical purposes. For example, many of our ministry systems (check-in, security, AV, and others) are supported on second-life hardware.
Facilities Reserve Fund: We are committed to allocating money to this fund each year to prepare for predictable facility repair and maintenance costs. In future years we anticipate the amount allocated to this Fund from the Operating budget to increase to enable us to maintain and repair the additional square footage of the expansion. In addition to money placed into the Fund from the Operating budget each year, much of the income from renting the soccer field and the building to community groups goes into the Facility Reserve Fund. During this past year approximately $120,000 was spent on repairs to concrete walks, asphalt, roof, and skylight.
Capital Improvements: This new section is designed to cover costs of some items related to the new building, or elements of renovation in the old building, that could not be included in the building project being completed now. Examples of possible projects are flooring in the corridors of the adult classroom area or the youth rooms, AV capabilities for those areas, and similar items.
Mortgage
Starting in November 2018 we began paying principle and interest on our construction loan with First Citizens Bank as well as on the loans from individual congregants.
Though the members had approved a bridge loan of up to $500,000 at the annual meeting last year, we ended up not having to borrow any of that additional money. This was due to generous, continued contributions to the Building Fund, for which we are profoundly grateful.
Last year's budgeted amount included interest-only for the primary construction loan and the loans from individuals for the first part of the year, principle and interest for part of the year; as well as principle and interest for the bridge loan. This year's number includes principle and interest for the now-mortgage and the individual loans, but no expenses for the bridge loan (since we did not use it at all).
The mortgage principle will be $6,450,000 (once the building project is complete and the entirety of the costs have been paid). The proposed budget shows the total principle and interest payments for the upcoming year.
The terms of the primary mortgage, as well as the individual loans, are the same: amortized over 20 years, fixed annual interest rate of 3.99%, with a balloon payment due after seven years.
Other Funds
CHBC has several other Funds in addition to the Operating Fund. These Funds are outside the scope of this budget. Funds have rules for receiving and spending money as established by the Board of Deacons. Funds are administered by the Business Office and ministry leadership staff who have responsibility in the areas to which the Funds apply. As of April 28, 2019, the following were balances in selected Funds, along with the ministry leader(s) responsible:

For more information about these and other Funds operated by the church, or about how to donate to those that are open for donations, please contact Donna Coston, Business Office Director (donna@biblechurch.org).
Building Fund Update
Money comes into the Building Fund from two sources: donor designations and deacon designations. Donor designated income to the Building Fund comes from individuals' giving with "building fund" as the designation on their checks or through our online giving system. (This is the most common way that money is designated to this Fund or any Fund in the church.)
Deacon-designated money comes from a specific decision of the Board of Deacons to shift money from the operating income of the church (i.e., undesignated contributions) to the Building Fund. Since our Revive campaign in 2016 the deacons have identified nearly $900,000 as "expanded giving" and moved it from the Operating Fund to the Building Fund. In addition, the Deacons identified money budgeted in the 2018-19 operating budget that we know will not be spent (related to the Worship Minister position which remains vacant, and the "bridge loan" which we did not end up taking), and plan to move that to the building fund at year end or at the close of the building project, whichever comes sooner. We anticipate that to be just over $114,000.
Expenses for the building expansion have included fees to the Town of Chapel Hill, OWASA, and other items of that nature; fees charged by our architects and engineers; inspections; and of course, payments to our contractor. We have drawn most of the construction loan from First Citizens Bank and have also borrowed the entirety of the congregation-provided loans of $550,000. As of the date of this publication the project is not finished and closed out. First Citizens Bank has graciously allowed us to continue to draw from the construction loan through at least the middle of May. When the draw period ends, we will draw all remaining money from that loan and hold it in a special account to finish paying the final costs of the building.