Roger Brooks
Nominated for Deacon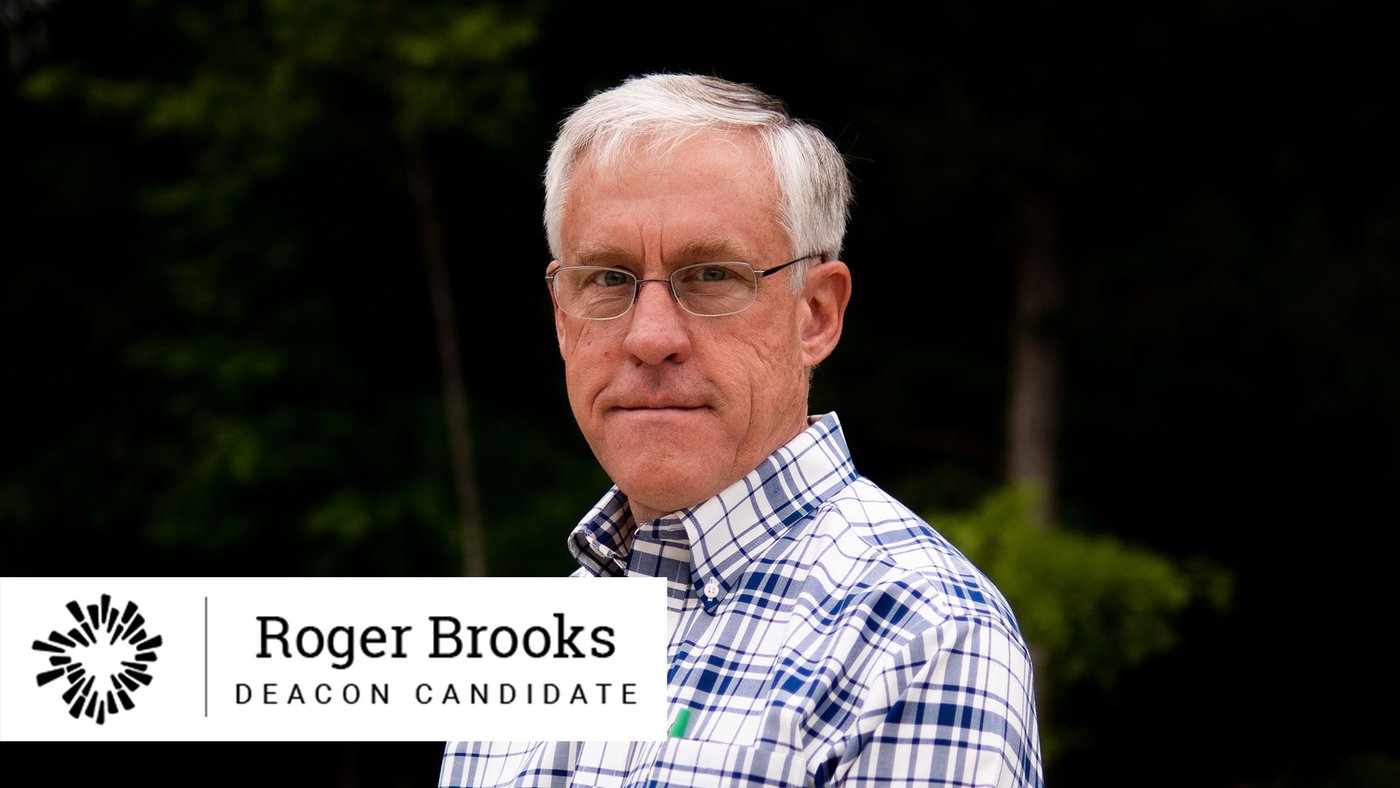 Tell us a little about your family and what you do for a living.
My wife Ann and I married a year out of college, and have been married for 37 years. We have five children, the youngest a junior in high school, and one very new granddaughter.
I grew up in Chapel Hill, but have spent most of my post-school adult life as a commercial litigator working in Manhattan. I loved that work, if not that city, but took early retirement at age 55 so that I could devote my legal skills to religious liberty and free speech litigation. For the last 4 years, I have been full-time employed as a litigator with Alliance Defending Freedom, doing just that. Once work no longer required us to live in New York, we promptly moved "home" to the Triangle in late 2016, and are glad to be here!
How did you become a follower of christ?
I grew up in a thoughtful and intentional Christian family, and became a Christian younger than I can remember. My parents were much the most formative influence in bringing me to faith, and to helping me grow into thoughtful, considered faith. In my high school years, I usually attended the Bible Church (then small, and meeting in Gerard Hall), and learned much more about careful study of the scripture from Jim Abrahamson's sermons—overhead projector and all. I made a more intentional "adult" commitment in my mid-teens, and was baptized by Jim in Lake Clearwater in 1977 or thereabouts.
How do you hope to contribute to the mission of CHBC?
Early in my legal career, I quit and went to Regent College Seminary in Vancouver, BC, where I received an M. Div. and an eye-opening introduction to how much more I could learn from the Bible when I studied it with the rigor I had learned to apply in the law, rather than merely "devotionally" and casually. Flowing from that, I love to teach, and find that I am able to get people excited about the "more" they too can find with careful study... and a helping hand. So, I'll do that when need arises.
Ann and I feel deeply that in our increasingly anti-Christian world, young families in the church need to be encouraged in the all-too-counter-cultural idea that raising a (numerous!) Christian family is a high and demanding calling of greater importance, challenge, and joy than (for most) anything else God will put before them. In whatever way we can—through relationships, through hospitality, through helping with women's Bible study child-care (Ann)—we want to provide that encouragement.
More generally, in the modern world and particularly the mobile slice of society that largely makes up CHBC, we believe that cross-generational relationships within the church are deeply needed, for both emotional and modeling reasons. Since it's too late for us to be the younger end of that equation, we want to do what we can to befriend younger members and families.
And of course, in any large human organization, there is just "stuff that needs to get done" . . . waiting tables, as it were. I believe that helping with such "stuff" is a rather explicit part of the scriptural job description.