Books
Age of Opportunity: A Biblical Guide to Parenting Teens by Paul David Tripp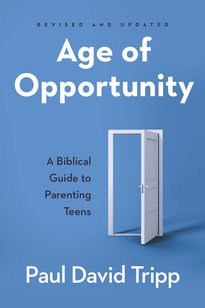 In his book Age of Opportunity, counselor and author Paul Tripp challenges parents of teenage children to rethink their approach to parenting teens. Rather than accenting the fear of influence of secular worldviews on the behaviors and attitudes of adolescents, Tripp says that the teenage years are years of opportunity. "It is time for us to come out of the bunkers of cynicism and fear and into the light, examining the plan God has for us as we parent" (19). Tripp builds his arguments from the foundation of Scripture, showing that God's truth is just as powerful to teens as it is to anyone else.
The structure of the book is informative and practical. Tripp divides the book into three sections.
Clearing the Debris. Tripp targets the hearts of both teens and parents. He uses biblical teaching on idolatry, God's sovereignty, identity in Christ, and more to shed light on being a teenager and parenting teens. He suggests that parents must target their teen's heart, and not just their outward behavior. Doing so will help parents redeem their teen's godly desires and attitudes.
Setting Godly Goals. Tripp defines five goals related to ministering to teens' hearts: (1) focusing on the spiritual struggle; (2) developing a heart of conviction and wisdom; (3) teaching a teenager to understand and interact redemptively with culture; (4) developing a heart for God; and (5) preparing teenagers to leave home.
Practical Strategies for Parenting Teens. In this section Tripp takes the five godly goals from the previous section and suggests three ways to implement them. He presents these strategies in a creative and identifiable way.
As we aim to walk alongside our children during their teenage years, this book gives encouragement and ways to enter into this journey with them with the desire to expose their heart to Christ for His redemptive purposes. This is a fantastic book that would be a great tool to put in your parenting toolbox!
Review by J.W. Ruff
---
Parenting: 14 Gospel Principles That Can Radically Change Your Family by Paul David Tripp
This book is not a step-by-step guide to parenting your children, as sometimes I am craving; rather, it is a total mindset shift on parenting. I really enjoyed this book. The author contrasts two different views of parenting: the "ownership view," where "they belong to me," being shaped by what we want for and from our children; vs. the "ambassador view," where children are God's possessions, and our jobs as parents are to faithfully represent the message, methods, and character of the leader who has sent them to us. The differences in these views are highlighted in four key areas.
Identity: are we getting our identity from the children, or is our identity found in Christ?
Work: is our job to turn our children into something, or to be instruments in the hands of God, motivated by the potential of what grace could cause our children to be?
Success: are we working towards things that show that we are successful parents to the world, or as God's ambassadors, are we focusing on not what we have produced, but what our children and us are doing?
Reputation: are our children our trophies, or are we the tools that are shaping our children, and giving God all of the glory?
This book is refreshing and really got me thinking. One of the things that stood out to me the most was the idea that most of the time when I am angry at my children, it's not because they have broken God's law, but because they have broken my law, or they are inconveniencing me in some way. Also, our children are more like us than different from us, especially in the way that we are all sinful creatures in need of Jesus. Realizing more how much of an honor and privilege it is to point my children towards Christ is encouraging, and I am starting to recognize that our children are supposed to need us, to make mistakes, to need to talk at seemingly inconvenient moments. I highly recommend this book, not if you are looking at a "how-to" guide to get your children into shape using behavior modification methods, but if you are willing to go deeper with Christ, allowing Him to guide and direct you in your parenting as you seek to draw your childrens' hearts towards Him.
Review by Sarah Ruff