Books
Parenting Beyond Your Capacity: Connect Your Family to a Wider Community by Reggie Joiner and Carey Nieuwhof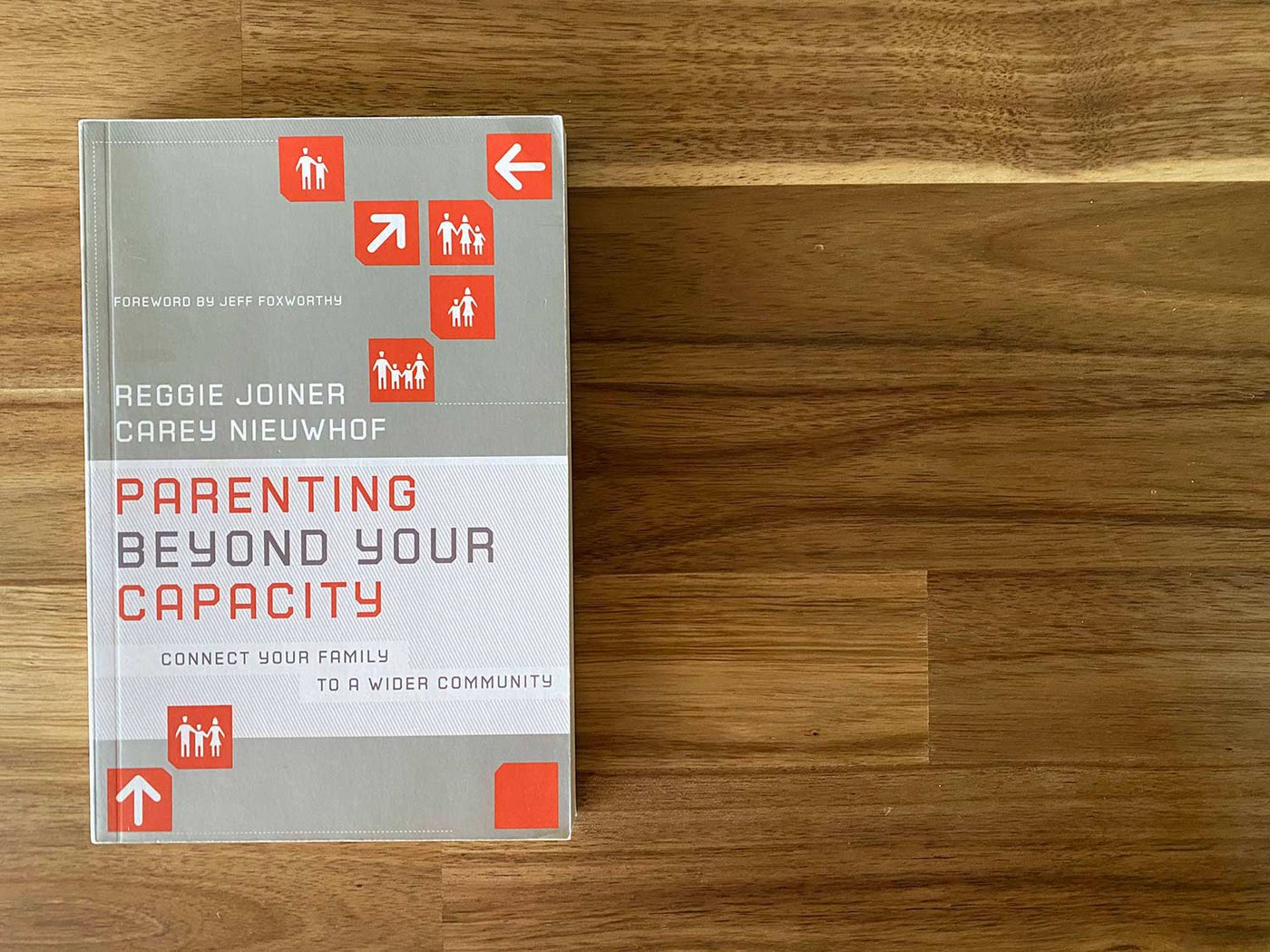 Capacity is defined as the maximum amount something can produce or contain. I think we can all admit after the pandemic our capacities have been stretched in many areas of our lives. Perhaps confidence in your ability to spiritually parent has been challenged lately and you are looking for renewed hope and direction. In their book, Parenting Beyond Your Capacity, Reggie Joiner and Carey Nieuwhof help us breathe a little easier about the task of spiritual parenting and direct us to lean into the support that can be found in community.
Let me just give you a few quotes and highlights from their book that have been encouraging and instructive for me in the past and even now with my grandkids.
"Your role is not to impress your children or anyone else with your ability to parent; your role is to impress your children with the love and nature of God." Isn't this a hopeful place to start?
They continue: "We need to remember that our influence has more to do with our relationships with our children than it does our skills as parents. Your purpose as a parent is not to develop exceptional parenting skills." (Am I hearing a collective sigh of relief?) This means you parent from the perspective of a relationship, not from your competence or abilities. The authors are very clear to establish that as a parent you have the potential to influence in a way that others cannot. But..and this is the premise of this book, "when you learn to parent beyond your capacity, you recognize that two combined influences will make a greater impact than just two influences." Those combined influences are the home and the church.
"there are 2 powerful influences on the planet—home and the church.
They both exist because God initiated them.
They both exist because God desires to use them to demonstrate
His plan of redemption and restoration.
If they work together they can potentially make a greater impact
than if they work alone. They need each other.
Too much is at stake for either one to fail. Their primary task is to build god's kingdom in the hearts of men and women, sons and daughter."
How do you establish a lifestyle of parenting beyond your capacity? There are five values clearly outlined in the book. Here is a quick summary of two of these values:
Widen the Circle: invite others to invest in your children, so your sons and daughters have other voices that will help shape and determine the direction of their lives. When we "widen the circle" we transition from a "me" approach to parenting to a "we" approach. We understand that other people pointing our children to Jesus enables us to parent beyond our capacity. The church community gives us other voices saying the same things we are trying to say as a parent. There is data-driven research (Lifeway, Fuller Seminary and others) that says when teens serve in their church faith grows and is more likely to "stick". The experience of personal ministry can give teens a bigger vision for their lives and their place in God's story. The community of faith becomes a strong ally as you fight for the heart of your kids which leads to Family Value #3.
Fight for the Heart and communicate in a style that gives the relationship value. The discussion in this chapter focuses on Moses challenging the Hebrew nation as they are about to move into Canaan. I am sure you are familiar with this passage in Deuteronomy 6 when Moses fights for the heart of the people by restating God's command to "love the Lord your God with all your heart and with all you soul and with all your strength". In just a few pages, the authors bring this part of the exodus story into your parenting story emphasizing the value of communication and building trust.
Just as Moses was trying to "warn the people about passing down rules without the context of a loving relationship", one of the most powerful things a parent can do is learn to communicate in a style that focuses on the Lawgiver rather than the law. Using relatable parenting examples combined with the biblical narrative, we are given helpful ways to communicate so that we are fighting for the heart just as God has always fought for the heart of the people He loves.
Another "fight for the heart" principle is building trust. Just as God shows Himself trustworthy time and again in response to the Israelites immaturity and inconsistency, building trust with our kids is one of the best gifts parents can give their children. Here is another quote to ponder: "during the formative and teenage years, it is more essential for the parents to earn trust with the child than it is for the child to earn trust with the parents." Everyday examples of how trust can be negatively affected are provided with the reminder that even though "we get tired of the countless issues or struggles related to parenting, we can never stop fighting for our relationship with one another".
The authors are wise and know we need to gather with others and talk this through so discussion questions are provided with each chapter. My last recommendation, find a friend or two, give the book and the compelling questions a try and always remember the love of God for you and your children.
Review by Betsy Riggan
---
Age of Opportunity: A Biblical Guide to Parenting Teens by Paul David Tripp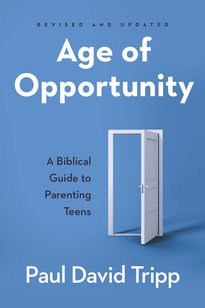 In his book Age of Opportunity, counselor and author Paul Tripp challenges parents of teenage children to rethink their approach to parenting teens. Rather than accenting the fear of influence of secular worldviews on the behaviors and attitudes of adolescents, Tripp says that the teenage years are years of opportunity. "It is time for us to come out of the bunkers of cynicism and fear and into the light, examining the plan God has for us as we parent" (19). Tripp builds his arguments from the foundation of Scripture, showing that God's truth is just as powerful to teens as it is to anyone else.
The structure of the book is informative and practical. Tripp divides the book into three sections.
Clearing the Debris. Tripp targets the hearts of both teens and parents. He uses biblical teaching on idolatry, God's sovereignty, identity in Christ, and more to shed light on being a teenager and parenting teens. He suggests that parents must target their teen's heart, and not just their outward behavior. Doing so will help parents redeem their teen's godly desires and attitudes.
Setting Godly Goals. Tripp defines five goals related to ministering to teens' hearts: (1) focusing on the spiritual struggle; (2) developing a heart of conviction and wisdom; (3) teaching a teenager to understand and interact redemptively with culture; (4) developing a heart for God; and (5) preparing teenagers to leave home.
Practical Strategies for Parenting Teens. In this section Tripp takes the five godly goals from the previous section and suggests three ways to implement them. He presents these strategies in a creative and identifiable way.
As we aim to walk alongside our children during their teenage years, this book gives encouragement and ways to enter into this journey with them with the desire to expose their heart to Christ for His redemptive purposes. This is a fantastic book that would be a great tool to put in your parenting toolbox!
Review by J.W. Ruff
---
Parenting: 14 Gospel Principles That Can Radically Change Your Family by Paul David Tripp
This book is not a step-by-step guide to parenting your children, as sometimes I am craving; rather, it is a total mindset shift on parenting. I really enjoyed this book. The author contrasts two different views of parenting: the "ownership view," where "they belong to me," being shaped by what we want for and from our children; vs. the "ambassador view," where children are God's possessions, and our jobs as parents are to faithfully represent the message, methods, and character of the leader who has sent them to us. The differences in these views are highlighted in four key areas.
Identity: are we getting our identity from the children, or is our identity found in Christ?
Work: is our job to turn our children into something, or to be instruments in the hands of God, motivated by the potential of what grace could cause our children to be?
Success: are we working towards things that show that we are successful parents to the world, or as God's ambassadors, are we focusing on not what we have produced, but what our children and us are doing?
Reputation: are our children our trophies, or are we the tools that are shaping our children, and giving God all of the glory?
This book is refreshing and really got me thinking. One of the things that stood out to me the most was the idea that most of the time when I am angry at my children, it's not because they have broken God's law, but because they have broken my law, or they are inconveniencing me in some way. Also, our children are more like us than different from us, especially in the way that we are all sinful creatures in need of Jesus. Realizing more how much of an honor and privilege it is to point my children towards Christ is encouraging, and I am starting to recognize that our children are supposed to need us, to make mistakes, to need to talk at seemingly inconvenient moments. I highly recommend this book, not if you are looking at a "how-to" guide to get your children into shape using behavior modification methods, but if you are willing to go deeper with Christ, allowing Him to guide and direct you in your parenting as you seek to draw your childrens' hearts towards Him.
Review by Sarah Ruff
Games: Connecting Together Through Play
In an effort to help strengthen the bond in our families through play, our CHBC parents have put together a list of games and activities that they have enjoyed over the years with their families to share with all CHBC families. If you have games or activities that have encouraged your families and would like to share with other CHBC families, please send JW Ruff an email at jwruff@biblechurch.org and he will add them to our list.
Creating Together
Collaborative Games for Young Kids
Card Games for Young Kids
Games for the Whole Family