Summer 2022 @ CHBC Kids
As our church is growing and changing, it is right to celebrate that which has, in many ways, contributed to the glorifying of God here at CHBC. KidsFest is worthy of that celebration! As a traditional Vacation Bible School at CHBC, KidsFest was full of laughter, fun, learning, as well as the Gospel being proclaimed to each boy and girl.
As the leadership of our Kids Ministry is transitioning, so are some of the events that we are choosing to hold for our children. We want to be clear; KidsFest was a wonderful use of time and resources, and it was a wonderful success. We thank God for the work He has done and will continue to do in the lives of those who have experienced it and contributed so greatly to making it happen!
It is with the same hope and expectancy that we are now transitioning to a new summer ministry for the kids of CHBC and our community. It is with great joy that we announce our partnership with PINE COVE CITY! Pine Cove is an independent Christian camp, based originally in Texas, that has impacted youth, college students, and families through the beautiful teaching of the gospel since 1967. Pine Cove City has an additional base in South Carolina, and travels to churches all over the Southeast every summer. These churches, including CHBC, partner with Pine Cove City by hosting their team of 30 college students, all of whom are interviewed, hired, trained, and deeply in love with the Lord, while those students put on 5 full days of summer camp for rising 1st – 6th graders.
We recognize that this is different from KidsFest in many ways, and hope that it will earn its own fond place in your hearts as KidsFest has over its tenure at CHBC.
DON'T WORRY. WE HAVEN'T FORGOTTEN OUR PRESCHOOLERS!
While Pine Cove does limit the age of kids that will be able to attend in comparison to KidsFest (i.e. rising 1st thru 6th graders), we are also excited to launch a NEW summer program designed specifically for our pre-K kids called FAITH EXPLORERS - a fun and memorable camp with four unique sessions this summer in June and July! More info below...
---
Pine Cove City Summer Camp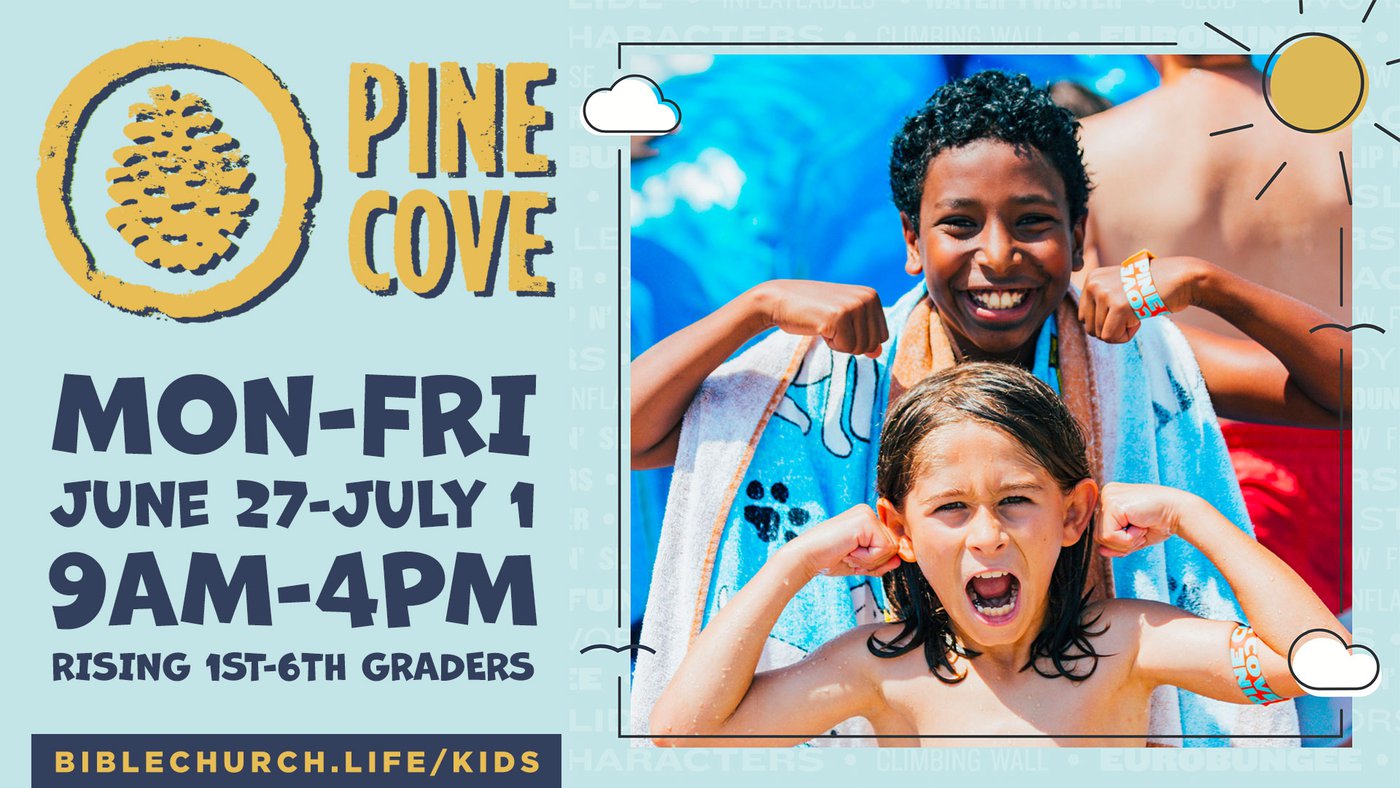 Pine Cove's core values are to be Christ-centered, others-focused, and seriously fun. "Pine Cove exists to be used by God to transform he lives of his people for His purpose and His glory." This partnership will provide the kids of CHBC and our community with a week full of joy, excitement, laughter, most of all, strong biblical teaching. Every part of camp including the meals, skits and games, is designed and executed to present the gospel.
WHO: Rising 1st - 6th graders
WHEN: Monday - Friday, June 27 - July 1, 9 am to 4 pm
WHERE: Chapel Hill Bible Church
WHY: We desire to partner with Pine Cove City to provide a FULL DAY summer camp for the kids of our church AND our community! Pine Cove City is Christ-centered, others-focused, and seriously fun!
COST: The price per child for 5 days of camp is $298/child. HOWEVER, we are LOWERING that cost to $225 with the code CHBCFAMILY for the first 80 CHBC kids who sign up because we really want you to be a part of this powerful ministry opportunity! We also desire to reach our community, and will be offering many scholarships in the hope of spreading the Gospel to our neighborhood kids.
---
Faith Explorers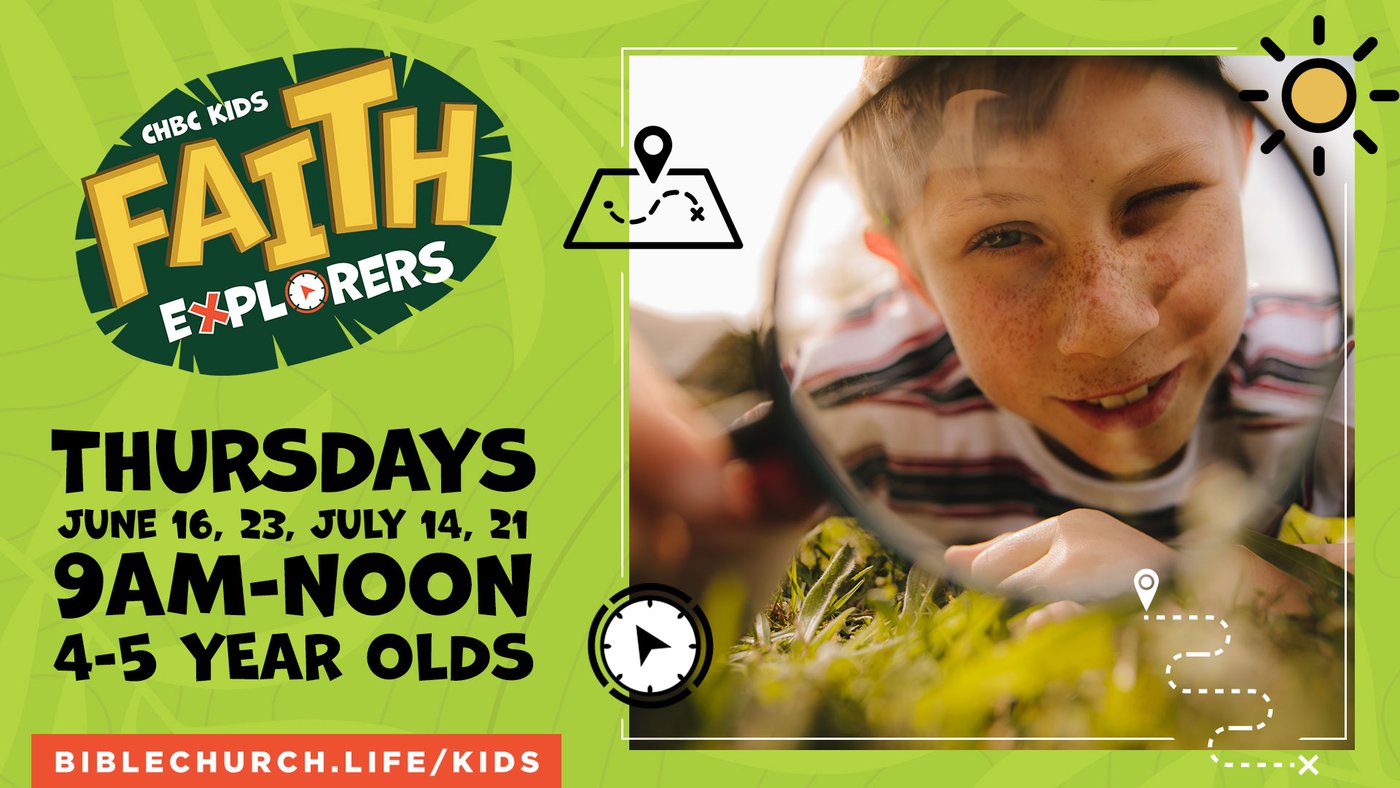 We are excited to announce four separate events full of summer fun, learning about the story of God, and fellowship with our little ones! We know that a full day of camp is a lot to ask of them, so we are packing a summer of fun into four different mornings!
WHO: 4-5 year olds
WHEN: Thursdays, June 16th, June 23rd, July 14th, July 21st (kids can register for one or all sessions)
WHERE: Chapel Hill Bible Church
COST: $12/day per child