Summer 2023 @ CHBC Kids
Last year we enjoyed an action-packed week at the Bible Church for rising 1st-6th graders with our partnership with PINE COVE CAMPS! And, we're excited to announce... they're coming back in 2023!
Pine Cove is an independent Christian camp, based originally in Texas, that has impacted youth, college students, and families through the beautiful teaching of the gospel since 1967. Pine Cove City has an additional base in South Carolina, and travels to churches all over the Southeast every summer. These churches, including CHBC, partner with Pine Cove City by hosting their team of 30 college students, all of whom are interviewed, hired, trained, and deeply in love with the Lord, while those students put on 5 full days of summer camp for rising 1st–6th graders.
DON'T WORRY. WE HAVEN'T FORGOTTEN OUR PRESCHOOLERS!
While Pine Cove does limit the age of kids that will be able to attend to 1st-6th graders, we are also excited to continue our summer program designed specifically for our pre-K kids called FAITH EXPLORERS - a fun and memorable camp offered Monday-Thursday, 9:00-noon, July 10-13. There will be a fun family picnic with bounce houses, games and popsicles and ice cream on Friday, July 14 at 5:30 pm. More info below...
---
Pine Cove City Summer Camp
rising 1st-6th graders
Pine Cove's core values are to be Christ-centered, others-focused, and seriously fun. "Pine Cove exists to be used by God to transform he lives of his people for His purpose and His glory." This partnership will provide the kids of CHBC and our community with a week full of joy, excitement, laughter, most of all, strong biblical teaching. Every part of camp including the meals, skits and games, is designed and executed to present the gospel.
WHO: Rising 1st - 6th graders
WHEN: Monday - Friday, June 26-30, 9 am to 4 pm
WHERE: Chapel Hill Bible Church
WHY: To provide a FULL DAY of summer camp for the kids of our church AND our community based around the Bible! Pine Cove City is a Christ-centered, others-focused, and seriously fun!
COST: The price per child for 5 days of camp is $298/child. However, we have 60 scholarships available for CHBC families to receive 20% off. Use the code "FAMILY20" when registering your child until they're used up.
SCHOLARSHIPS: Additional scholarship is available on an as-needed basis; we do not want money to be a barrier for anyone to be at camp! Please email Hannah if you are in need of additional financial assistance (hannah@biblechurch.org).
---
Faith Explorers
Pre-K thru Kindergarten: 4-5 year olds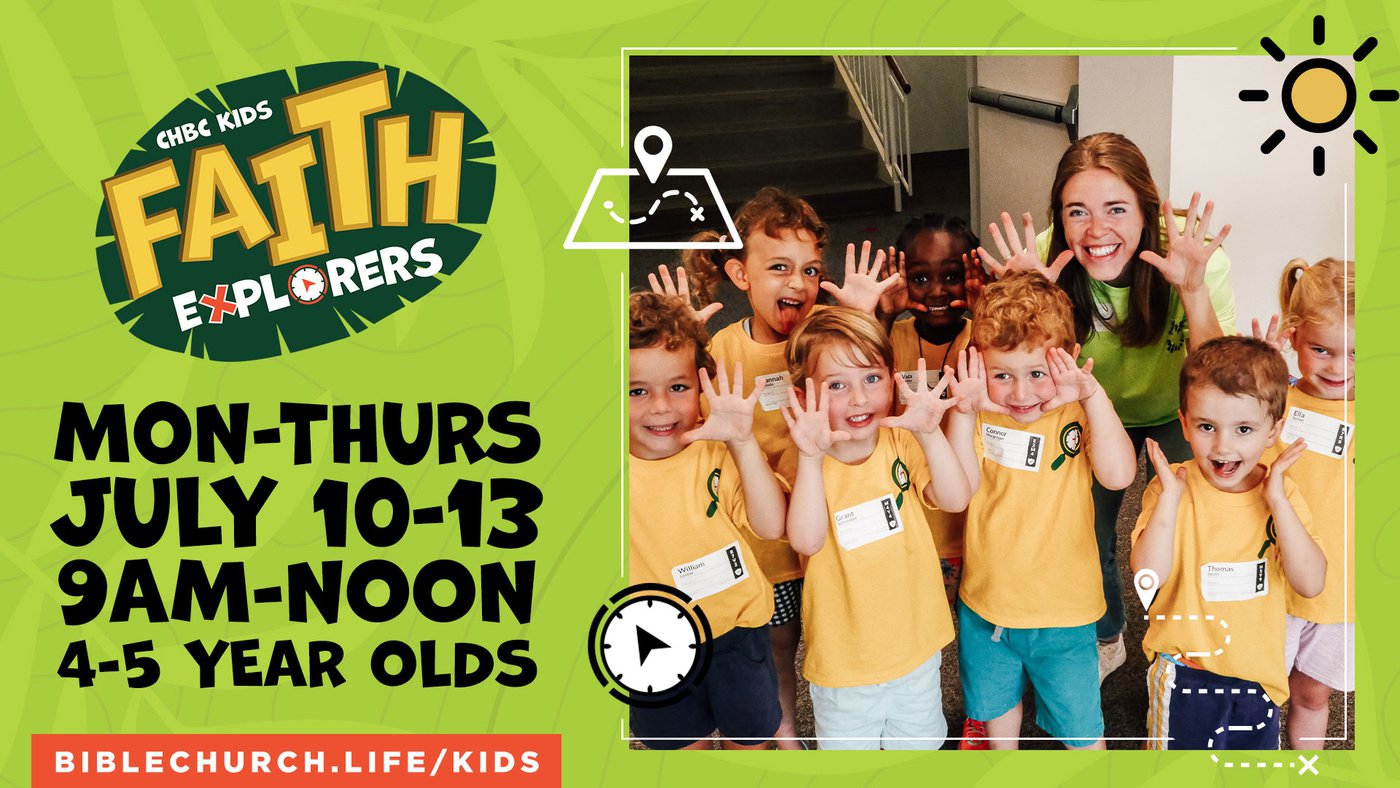 We are excited to announce a week full of summer fun, learning about the story of God, and fellowship with our little ones! Faith Explorers will include a large group teaching and worship time, games, crafts, and small group time designed especially for this age group.
WHO: 4-5 year olds
WHEN: Monday-Thursday, July 10-13
WHERE: Chapel Hill Bible Church
COST: $30 per child
On Friday, July 14, 5:30 pm, we'll end an incredible week of Faith Explorers with a fun family picnic with bounce houses, games and popsicles and ice cream.