Announcing One Service this Summer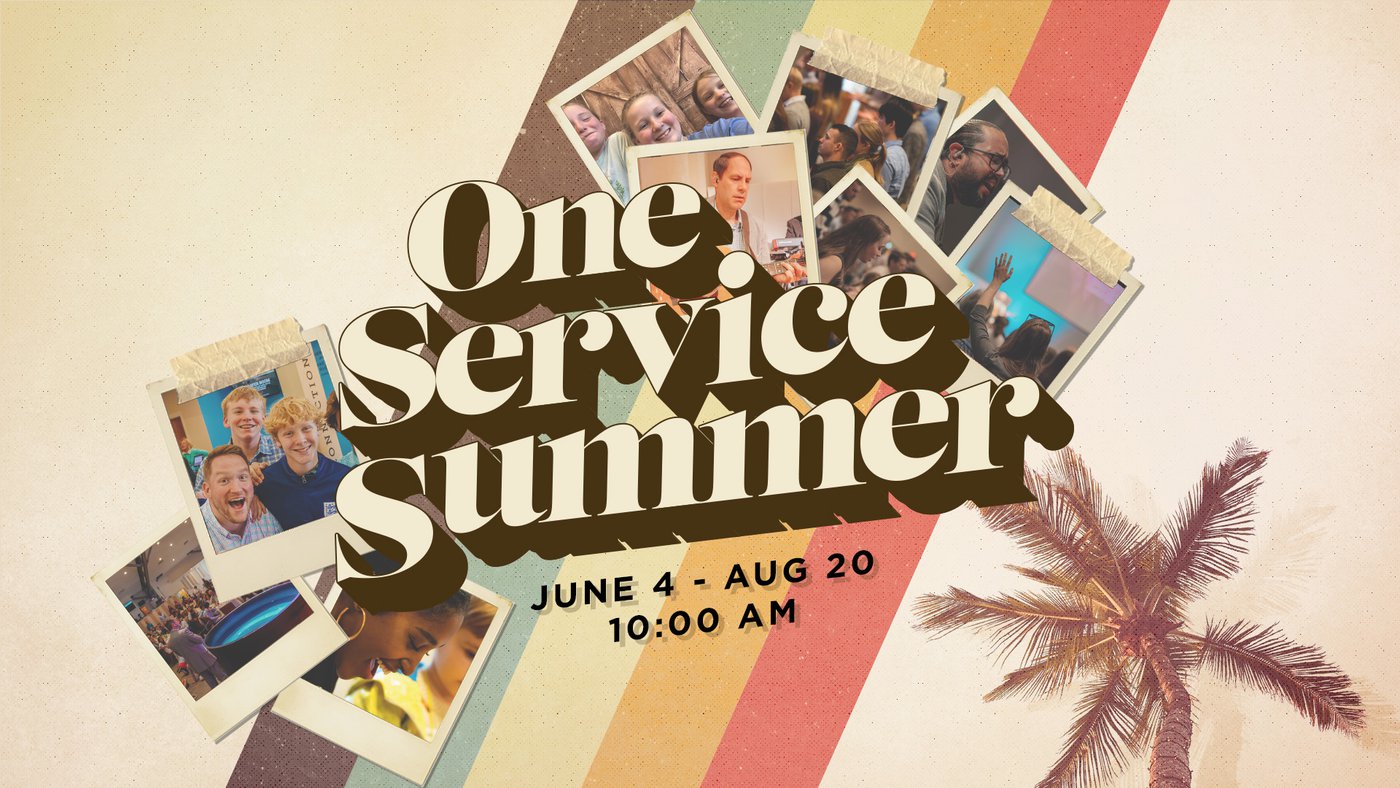 Summer is around the corner and we have some news we would like to share with you. Summer is usually a time to slow down a bit, rest, and recharge. Consequently, starting on June 4th, we will be starting a special teaching series that focuses on unpacking the traits of a healthy Biblical church. We look forward to this deep study of the Word and being reminded of God's glorious purposes for the Bride of His Son, Jesus. From leadership, to membership, to mission, we are excited to soak in what it means to be God's gospel-people.
To that end, we also have another vision we think will add to this series and help us rest as a body… we plan on going to one service for the summer!
Here are some reasons behind that vision:
We want to gather around this theme of a "healthy Biblical church" together in the same service, same experience, sharing our presence. Though two services on a Sunday is our normal practice, how cool would it be to actually be gathered as ONE church to worship and take in this series?!? We think one service would embody the series in a meaningful way that would aid our spiritual formation together.
Summer is one of our busier seasons for guests. Many people are moving to the area and looking for church families. Because our membership is often traveling during the summer, we think one service is a great way for a new individual, couple, or family to see our body and to hear our vision for what it means to be the church! The Holy Spirit and the truth of the Word of course is the energy of our gathered worship, but a full sanctuary of believers under the power of the Spirit and Word is a great way for people to first experience our body.
Our vision is just for the summer. We are making sure all the contingencies and appropriate constituencies are taking into account what this would mean.
What about Kids Ministry? In particular, our Kids Ministry (KM) is something several of you might be wondering about. We are working with our KM leaders to make sure that nothing changes in our priority or efforts with our kids. Our philosophy for Kids Ministry will continue to be a child discipleship model through this summer session.
What about our hospitality team? We want to maintain a warm and welcoming spirit of hospitality this summer. As such, we will provide coffee service from 9:30-9:55 am, encouraging our members to arrive for a time of fellowship prior to the service. Reach out to Elizabeth Portnoy if interested in serving on the Connections team.
What about our adult classes? Summer is usually a slower time for our adult classes. In fact, several of our classes already plan to take a break. For those that continue through the summer, they will meet from from 8:45-9:45 am. Be sure to reach out to Matt Smith with questions.
We are excited about being one gathered church at one service for the summer!
Worshiping Together as Families this Summer
We're particularly excited about this summer for families at CHBC! From June 4 - August 20, parents along with their kid(s) (K-5th) will be worshiping TOGETHER for the first half of our worship service before they're dismissed to Kids Ministry. Our aim is to keep kids in mind with our worship service while also inviting them in to observe and participate in the regular corporate worship of the church.
Some specific things we'll be adjusting are our
Corporate readings - being especially mindful of all generations,
Teaching meaningful and singable songs accessible to everyone,
A consistent use of the "Pass the Peace" element (both for fellowship, and an opportunity to get some wiggles out), and
Frequent participative moments, providing plenty of opportunities to stay engaged.
We also encourage families to utilize the giving moment, passing the baskets, to teach kids about giving and as a tactile moment of engagement.
Have questions? Reach out to Geoff Grant (Worship Pastor).
A Call to Discipleship of our Kids this Summer
In an effort to support the vision for the summer series while still pursuing the vision of Kids Ministry (that kids may know, love, and follow Jesus and reach their world for Christ), we will continue to provide age-appropriate teaching and small group and prayer time for our K-5th grade kids after they attend the worship time in the service. This will allow us to continue our scope and sequence plan for teaching through the Bible, stay connected with the kids over the summer in small group time, help them participate in our Summer Scripture Challenge, and mission moments such as OCC packing Sundays while being a part of the service worship time with their family. We will still have our annual School's Out Party on June 11. As well, we are hoping to bring the now famous "Bible Bowl' to designated Sundays during the summer. Providing Kids Ministry in this way will also allow us to personally welcome and introduce visiting kids and their families to our ministry.
As a Kids Ministry volunteer, we hope you can stay engaged with KM over the summer. If you are volunteering with K-5th grade, this one-service format will allow you to attend the worship time and leave right before the sermon at a designated point in the service to disciple our kids for the remainder of the service time.
If you're not currently serving in some capacity at CHBC, we'd invite you to participate in the mission of discipling the next generation here at CHBC.