Update on Wednesday, June 8
In our communication, GRACE has described that their assessments produce a "final report," which is typically 40-60 pages. The report includes an introduction on the scope and process of the assessment, findings, analysis, and recommendations. GRACE said, "Typically the nature of the recommendations will include any identified training and education needs, policies and procedures and various ways that a church can improve its care for abuse survivors."
"It is not GRACE's practice to tell a church to change its theology, or its governance structure or to remove staff. Those are treated more as 'givens'. Therefore, recommendations in GRACE assessments have addressed improving staff knowledge, behavior or communication or being aware that theological beliefs sometimes create risks or misunderstandings that can be mitigated or addressed in positive ways."
---
Update on Tuesday, May 3
We last gathered together on February 13th for a debrief of the recommendations we received from LFM concerning our governance structure. Our Vision Team so appreciated the input we received during that meeting and have spent the last two months working through that content and refining the proposal.
As a result of those efforts, our Vision Team produced a document which was shared with the Board of Elders on April 27th. We look forward to sharing those recommendations with you!
Please register to attend our next Member Meeting on May 15th in the Sanctuary from 2-4 pm. We will lay out the proposal as approved by the Elders and will introduce one necessary bylaw change which will be voted on at our annual meeting on June 5th.
NOTE: You may be wondering if we are getting ahead of the process by voting on this prior to receiving the report from GRACE. While the work of both firms is happening concurrently they are not dependent on each other. Per GRACE, their report will not address church governance structure. We are confident that we can continue the governance work while we await the GRACE report.
---
Update on Thursday, April 28
Thank you for your prayers for the Vision Team retreat that took place on April 23-24. The team spent 8+ hours preparing a document with a proposal for the new governance structure for CHBC, as recommended by LFM.
The document was presented to the Board of Elders on April 27. If approved by the Elders, these recommendations will be presented at our next Member Meeting on May 15th.
---
Update on Wednesday, April 13
The Vision Team will have its next retreat the weekend of April 23-24. We will continue to discuss LFM's proposal for policy governance (shared with the membership on February 13th). We will also review and discuss the proposed new Elder and Deacon roles, presented by two working groups from within the Vision Team. Please pray for our team as we continue to work through these important issues.
The next membership debrief is scheduled for May 15th.
---
Update on Monday, March 28
GRACE has informed us that they will not be able to deliver their report to us in May, as previously hoped. They now expect it to be finished and delivered some time this summer. Click here to read their letter, written on March 25th.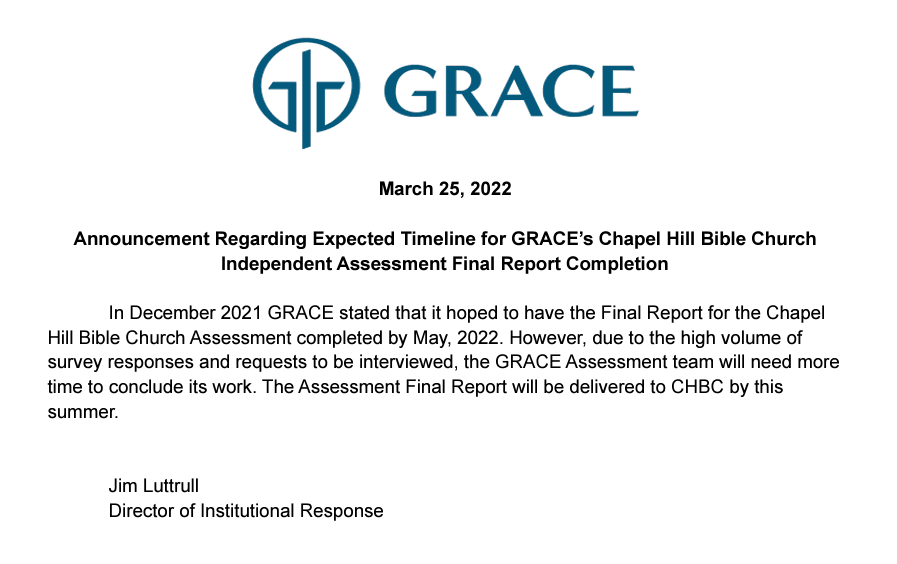 ---
Update on Friday, March 11
Dear Bible Church,
We are writing to provide you with an update on our work with the consultants we have contracted to help our church thrive as we embark into our next 50 years of life and ministry together.
Highlights from February
Feb. 13 Member Meeting: Members were invited to share their impressions of the governance model proposed by LFM. In general, comments were supportive of the proposed updated roles of elders (Protect, Direct, Connect) and deacons (expand role and numbers to include congregation care) if they will improve and clarify communication, provide accountability, improve congregational care, and promote diversity in leadership. Members were also concerned about adequate training and a transition plan for these revitalized roles.
Some members highlighted the need to integrate the expected GRACE report into our planning and wondered if we need to wait for it before proposing a governance model to the congregation. The CWG has since consulted with GRACE who informed us their assessments primarily speak to policies, which will be developed later. The nature of the recommendations made by GRACE should not affect our forward progress on structure and governance changes.
Feb. 19-20 Vision Team Meeting: The Vision Team reviewed team reports from the Member Meeting, worked to further clarify elder and deacon roles, and tested the effectiveness of the new roles using various hypothetical scenarios modeled on real-life situations. On the whole, there was a lot of synergy and unity around the proposed recommendations at this point, and we felt like we were on the right track and making good progress.
What's Next?
The Consultant Working Group and Vision Team will continue to develop recommendations into a plan to present to elders, deacons, and members. We're also working to identify immediate improvements we can implement based on insights already gleaned from feedback provided by the congregation. The goal of these next steps is to improve our governance structures to better love one another and bear fruit in our partnership with God and His mission to the world.
Coming Soon
FAQs: Soon our consulting webpage will feature an FAQ section addressing some of the most common questions about this process. We will continue to add to this list as new questions and responses arise.